Allen Lund Company Press Release
Welcome Back Verbum Dei Interns
The Allen Lund Company is pleased to welcome back our Verbum Dei Jesuit High School interns to ALC HQ. This is the 16th year ALC has partnered with the Verbum Dei Jesuit High School Work Study program. ALC, along with Verbum Dei, have developed a program that gives students the chance to gain important job training skills. Interns will perform different tasks with various departments to build upon their education and gain exposure to company culture.
Assistant HR Manager, Carrie Petersen commented, "We look forward to giving our students valuable and hands-on work experience here at ALC headquarters.  For the first time in four years, we will have students from all four grade levels, and they will each get to work in the Carrier Resources department finding missing bills or conducting online research, deliver the mail and help with daily tasks in Accounting and HR. We enjoy getting to know our new freshman and sophomore and growing their office experience, while also learning more about our returning students and their classes and involvement on campus. It is especially rewarding to be a part of our senior's college application and acceptance experience, in anticipation of the school's Commitment Day Ceremony in May."
Senior Director of HR, Matt Barnes stated, "We are excited to have our Verbum Dei students back for the new academic year. Having these young men interning with us has been as beneficial for us as it has been for them, and each year, we learn a little more about how to utilize them and serve them best. We have one from each class from freshman to senior, and watching them grow and mature is so rewarding."
Welcome back Verbum Dei interns!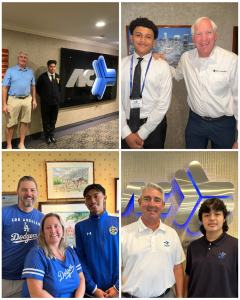 To read the original press, click here