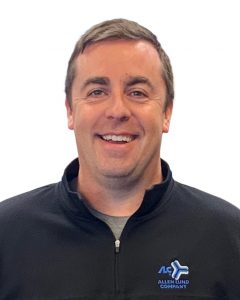 The Allen Lund Company is pleased to announce the promotion of Mark Taylor to General Manager of ALC Chicago.
Taylor began his career with the Allen Lund Company in the ALC Chicago office as a Transportation Broker in 2005. He has received various promotions throughout the course of his career and has spent the past two years serving as the Assistant Manager.
"As an 18-year veteran at Allen Lund Company, we are excited to promote Mark Taylor to the General Manager position of our Chicago office. He has proven his ability to provide solutions for customers and he will provide the necessary leadership to our people so that the Chicago office can achieve its goals," said ALC President, Eddie Lund.
Tracey Lewin, ALC Vice-President, stated, "I've had the pleasure of working closely with Mark for over four years now and I know that he is an extremely talented, dedicated, and capable leader. He is a person of integrity and will do a phenomenal job leading the Chicago office to new heights. The entire team will prosper under his guidance, and I'm thrilled for them as he takes the reins. I am very proud of Mark, and very excited to watch him flourish in his new role!"
Reflecting on his promotion, Mark said, "I really appreciate the opportunity the Lunds and the executive team have given me to manage the Chicago office. We have a great veteran crew here, and I'm looking forward to growing this office even more!"